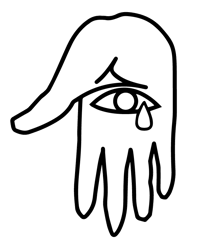 Back to Shop
WITCH CRAFT MAGAZINE - DIGITAL BACK ISSUES
$

6.00
/ On sale
if you missed the print run of issues 1, 2, or 3, you can now download the digital issues for less than a cup of coffee. you will receive oner 500 pages of poetry, literature and art in one go. your purchase of this digital product helps us run the press, table at events, and keep our website running.
ISSUE THREE:
featuring poetry by: Taryn Andrews, Ruby Brunton, Emily Carney, Kristin Chang, Collestipher Dodge Chatto, Kell Connor, EVIL MTN, Micaela Foley, p.e. garcia, James Gendron, Rachel Charlene Lewis, Sydney McNeill, Lakshmi Mitra, Faro Quintal, Brent Reichenberger, MJ Santiago, Erin Taylor, Laura Theobald, Theo Thimo, Kina Viola, maggie woodward, & Joshua Young
longform by: Jason Arment, Shannon Barber, Megan Giddings, Ariel Gore, Katharine Coldiron, Amanda McNeil, Joseph Parker Okay, Nicholas Rys, JK Shawhan, Matthew Williams & Sara June Woods
artwork by: Lonnie MF Allen, Lisa Arnberger, Layla Durrani, Emma Ensley, Rossella Ferro, Manuela Gandara, Erin Greenough, Ryan Humphrey, Mia Kaidanow, Michelle Kingdom, Matt Kish, Denesee Paul, Bob Schofield & Evelyn Spear
plus an interview with Sarah Certa
ISSUE TWO:
Featuring poetry by: manual arturo abreu, Nolan Allan, Eva Azenaro Acero, Carmen E Brady, Megan Burns, Emily Carr, Kay Cosgrove & Lauren Hilger, Dalton Day, Sara Tuss Efrik trans. by Paul Cunningham, Lauren Eggert-Crowe, Mica Evans, m. forajter, Megan Freshley, Sarah Jean Grimm, Ben Gross, Kayla Heisler, Samantha Kennedy, Nooks Krannie, Dylan Krieger, Francesca Kritikos, Carolann Madden, Cassidy McFadzean, Luis Neer, Beyza Ozer, Caroline Rayner, Nichole Riggs, Jon Ruseski, Souen Seo, Ellie Swensson, Alex Vigue, Shy Watson, Chelsey Weber Smith
Longform by: Tyler Barton & Erin Dorney, Katie Burke, Courtney Burnett, Shane Jesse Christmass, Mikaella Clements, Isabelle Davis, Brian Ecklund, nyoka eden, Fiona George, Gabrielle Gilbert, Nick Greer, T.A. Noonan, Amy Parker, Chuck Young
Artwork by: Colleen Barnett, Alexander D'Agostino, Layla Durrani, Brinley Froelich, Amelia Grace, Lindsay Hawk, Ji Hoo Woo, Oisín Iodice, Justine Jones, Tayler Jones, Tobin Garth Karicher, Amelia Konow, Tiffany Mallery, Luca Negri, Oriane Safre-Proust, Carabella Sands, A.G. Sherman, Julia Sub, Bis Thornton, Ines West, Seong Yeon Kim
Interviews with Sonya Vatomsky and Megan Kruse.
ISSUE ONE:
Featuring poetry by: Francesca Lia Block, Simina Banu, Zachary Cosby, Jamison Crabtree, Ryan Downum, Zoe Dzunko, Jon-Michael Frank, Zooey Ghostly, Marianna Hagler, Lauren Milici, Christopher Morgan, Emily O'neill, Antonina Palisano, Carabella Sands, Kelly Thompson, Sonya Vatomsky, and Matthew Wedlock
Fiction and Prose by: Corey Dahl, Brian Ecklund, Nicola Maye Goldberg, Anna Lea Jancewicz, Melissa Mcdaniel, Chelsea Laine Wells, and Oliver Zarandi
Essays by: Alexandra Naughton and Milcah Halili Orbacedo
Interviews with Francesca Lia Block, Wendy C. Ortiz and a conversation with Sommer Browning by Adam Tedesco
Artwork by: Adriana Lafarga, Tana Oshima, Alejandra Perez, Julia Sanders and Kelly Schirmann